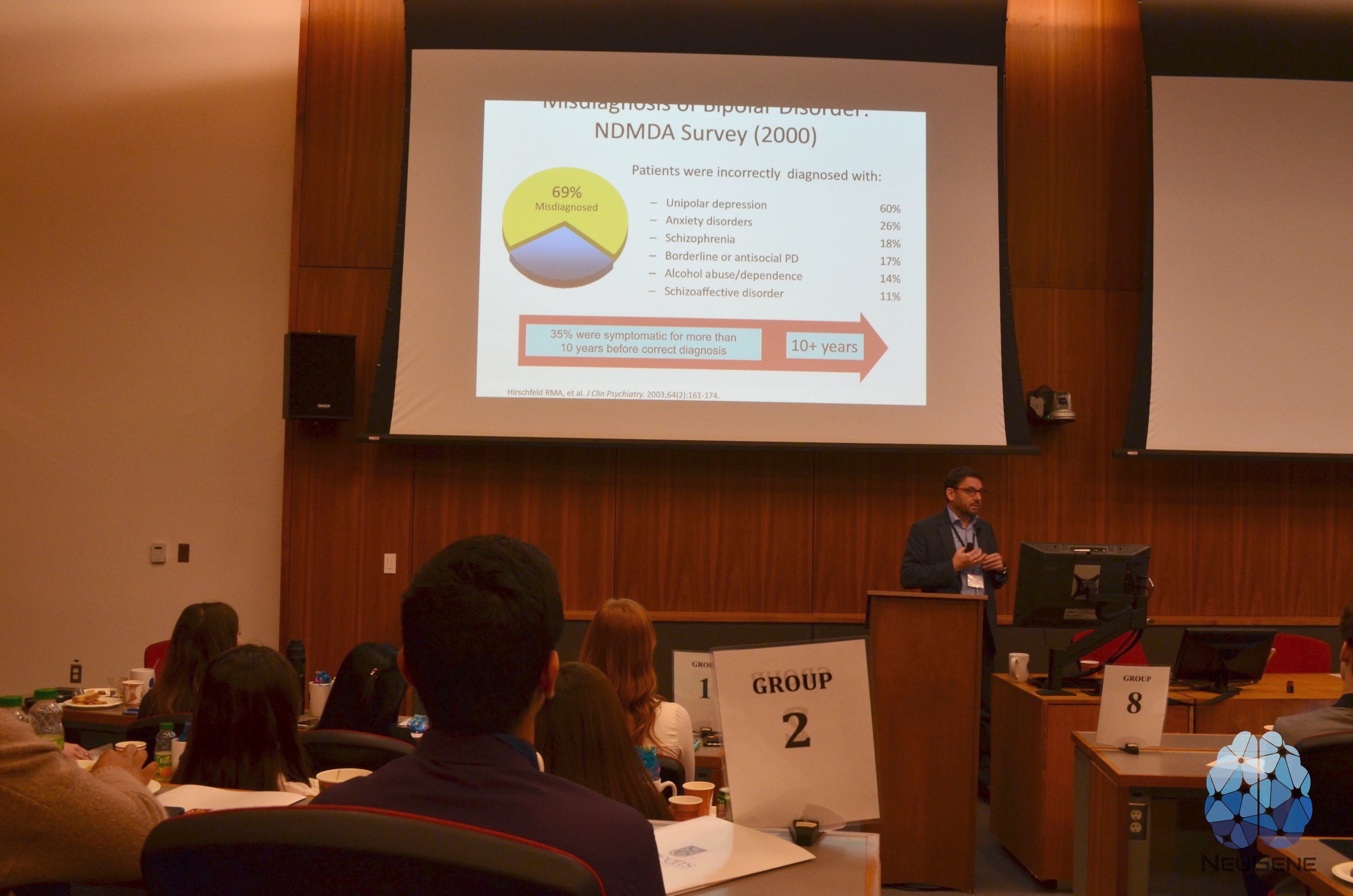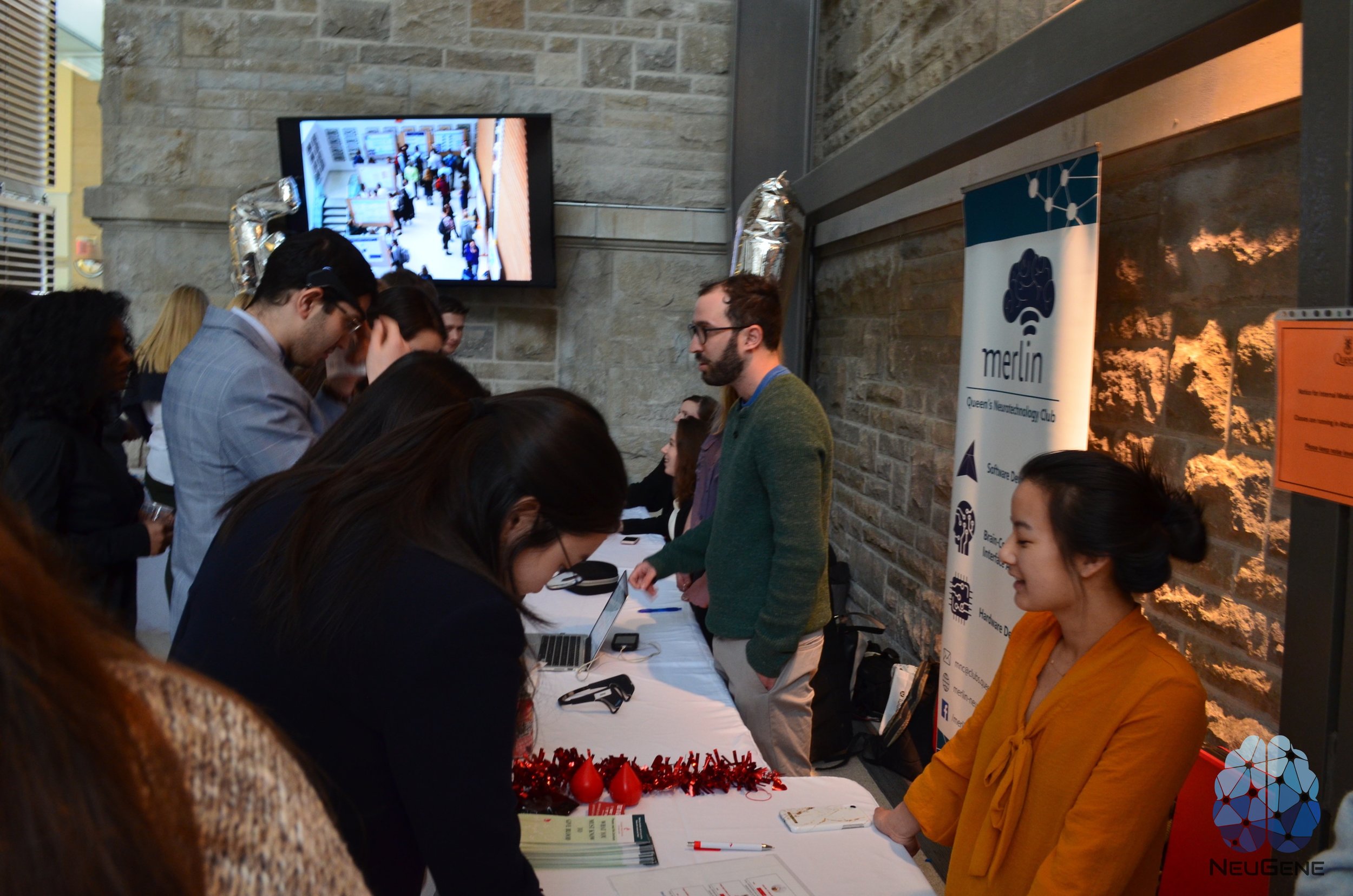 Speakers Series
Presenters for NeuGeneration 2019 Conference
Dr. Alan Lomax
Microbes on the Mind: How Bacteria Influence Sensory Pathways From the Gut
Dr. Lomax is a neurophysiologist who received his PhD from the University of Melbourne in 2000. Following postdoctoral training at the University of Calgary, he joined the faculty of the Department of Physiology at Queen's University in 2006.

While neurons in the central nervous system are protected from the rest of the body by the blood-brain barrier, neurons in the periphery constantly interact with all other cell types in the body.

Dr. Lomax has studied these intercellular interactions throughout his career. He has investigated how autonomic neurons respond to activation of the immune system, and has recently begun to decipher how microbes in the gut communicate with sensory neurons. This latter topic will be the subject of his seminar.
Dr. Milos R. Popovic
Neuroplasticity: How Neuroprosthesis for Reaching and Grasping Can Be Used to Overcome Paralysis
Milos R. Popovic is the Institute Director, Research at the Toronto Rehabilitation Institute - University Health Network. He is also a Professor (Tenured) in the Institute of Biomaterials and Biomedical Engineering at the University of Toronto. Dr. Popovic is the co-founder and director of (i) MyndTec; (ii) the CentRe for Advancing Neurotechnological Innovation to Application (CRANIA) at the University Health Network and the University of Toronto; (iii) the CRANIA Neuromodulation Institute at the University of Toronto; and (iv) the Canadian Spinal Cord Injury Rehabilitation Association. He is also the founder of the Rehabilitation Engineering Laboratory at the Toronto Rehabilitation Institute - University Health Network. Dr. Popovic held the Toronto Rehab Chair in Spinal Cord Injury Research appointment from 2007 until 2017.

Dr. Popovic received his Ph.D. degree in mechanical engineering from the University of Toronto, Canada in 1996, and the Dipl. Electrical Engineer degree from the University of Belgrade, Serbia in 1990. His fields of expertise are functional electrical stimulation, neuroprostheses, neuro-rehabilitation, neuromodulation, brain machine interfaces, physiological control systems, assistive technology, modeling and control of linear and non-linear dynamic systems, robotics, and signal processing.

In 1997, together with Dr. Keller, he received the Swiss National Science Foundation Technology Transfer Award - 1st place. In 2008, Dr. Popovic was awarded the Engineering Medal for Research and Development from the Professional Engineers of Ontario, and Ontario Society of Professional Engineers. In 2011, he was elected to the College of Fellows of the American Institute of Medical and Biological Engineering. In 2012, company MyndTec Inc., which Dr. Popovic co-founded in 2008, won the 1st Prize and the Best Intellectual Property Award at the annual TiEQuest Business Venture Competition. In 2013, he received the Morris (Mickey) Milner Award for outstanding contributions in the area of Assistive Technologies from the Health Technology Exchange. Also, in 2013, together with Drs. Prodic, Lehn, and Huerta-Olivares, and Mr. Tarulli, Dr. Popovic received the University of Toronto Inventor of the Year Award. In 2015, Dr. Popovic received the 2014 University Health Network's Inventor of the Year Award. In 2017, he won the Accessibility Innovation Showcase and Tech Pitch Competition Award at the Ontario Centers of Excellence Discovery 2017 Conference. In 2018, Dr. Popovic received a Jonas Salk Lifetime Achievement Award for his lifetime contributions from the March of Dimes Canada.

In this lecture, I will present a neuroprosthesis for grasping, which does not belong to a typical "garden variety" neuroprostheses that one can commonly find discussed in the literature. In the literature, the neuroprostheses for grasping are used to replace and substitute function, and patients are expected to depend on these devices their entire lives to reach and grasp objects. This lecture will showcase a neuroprosthetic application, which is aimed at restoring voluntary hand function after severe stroke and spinal cord injury, instead of making the users depend on technology to perform reaching and grasping. In the lecture, the results of two Phase II randomized control trials will be presented, which were pivotal for this technology to become a commercially viable product. The second part of the lecture will discuss 20+ years-long journey from invention to commercialization, and what were the challenges we had to face to develop MyndMove® product.
Dr. Roumen Milev
Depression: What You Always Wanted to Know But Were Afraid to Ask
Dr. Milev completed medical degree in Sofia, Bulgaria in 1983, obtained Specialty of Psychiatry in Bulgaria, MRCPsych in England and FRCPC in Canada and defended PhD in Forensic Psychiatry. In 1995 he moved to Regina, Canada where he became Medical Director of the Mental Health Clinic. In 2001 he was appointed Clinical Director of the Mood Disorder Research and Treatment Service in Kingston. From 2007 until 2017 he was the Head of Department of Psychiatry at Queen's University and affiliated teaching hospitals, and since 2017 Director of Centre for Neuroscience studies at Queen's University. In Octomber 2018 he was appointed as Vice President, Medical and Academic Affairs at Providence Care Hospital. He is a Fellow of the Royal College of Psychiatrists (UK) and a Distinguished Fellow of both Canadian and American Psychiatric Associations.

Dr. Milev is actively involved in research in Depression, Bipolar Disorder, and other mental disorders. Main areas of his research include stigma, sleep architecture, psychopharmacological and rTMS treatments. Most recent focus of his research have been biomarkers for treatment response in depression, as part of the CAN-BIND integrated discovery program.

Dr. Milev has over 80 peer reviewed publications and book chapters. He has lead many symposia, workshops and panel discussions at conferences and has presented numerous lectures to psychiatrists, primary care providers and other health professionals. Dr. Milev is involved actively in undergraduate, graduate and postgraduate teaching, including supervision of Masters and PhD students. He has co-autheored several CANMAT guidelines for management of patients with Major Depressive Disorder and Bipolar Disorders. He has won several prizes and awards.
Dr. Isabelle Aubert
Translational Research in Focused Ultrasound for neurodegenerative Disorders: Preclinical Findings to Clinical Trials
Dr Aubert obtained her PhD in neurosciences from McGill University, Montréal, Canada. She studied the plasticity of cholinergic systems in neuorodegenerative disorders, i.e. Alzheimer's and Parkinson's diseases, and during normal brain development and aging. She completed her post-doctoral training in gene therapy and axonal regeneration at the Salk Institute in San Diego, California.
Dr Aubert is a professor at the University of Toronto. As a senior scientist, she leads the Brain Repair Group and is a member of the Centre for Excellence in Focused Ultrasound at Sunnybrook Research Institute, Toronto, Canada.

Her research aims at developing therapies for Alzheimer's disease. She is evaluating drug, gene and cell therapies for their potential in maintaining neural and vascular health, promoting brain repair and regeneration, halting degeneration and restoring cognitive functions. Dr Aubert uses focused ultrasound to deliver therapeutics from the blood to targeted brain areas, aiming to increase treatment efficacy for Alzheimer's disease and other neurological disorders. In addition, her work builds on seminal discoveries using focused ultrasound, with no therapeutic added, to promote hippocampal neurogenesis, activate glial cells, reduce amyloid pathology and promote cognitive functions in Alzheimer's disease "
Dr. Susan Crocker
Piecing Together the Fragments: The Cytogenomics of Neurological Disease
Dr. Susan Crocker received her Bachelor of Science (Honours) degree from University of King's College (Halifax, Nova Scotia) and then completed a combined Ph.D. in the Departments of Pharmacology and Neuroscience at Dalhousie University (Halifax, Nova Scotia). Following her doctoral studies, she received a fellowship from Newborn Screening Ontario to support her postdoctoral research in the labs of Drs. Alex MacKenzie, Pranesh Chakarborty and Michael Geraghty at the Neuroscience Research Institute (Ottawa Hospital Research Institute) and the Ontario Newborn Screeening Laboratory (Ottawa).
She then received a postdoctoral fellowship from the Ontario Ministry of Health and Long Term Care to support her Clinical Genetics (Canadian College of Medical Genetics (CCMG)) training with the Eastern Regional Genetics Training Program in Cytogenetics at the Children's Hospital of Eastern Ontario (CHEO)(Ottawa,Ontario). Currently, Dr. Crocker is Director of the Cytogenetics Laboratory at Kingston Health Science Centre (KHSC) and Assistant Professor at Queen's University (Kingston, ON).
Dr. Crocker's research interests include the study of novel molecular biomarkers using high-throughput approaches to interrogate biological fluids in complex neurological diseases.
Dr. Doug Munoz
A systems neuroscience approach to understanding behaviour and brain function
Doug Munoz received his Ph.D. from McGill University in 1988 in Neurology and Neurosurgery followed by a Post-doctoral Fellow at McGill and subsequently at the National Eye Institute, National Institutes of Health. He came to Queen's in 1991 as an Assistant Professor in the Department of Physiology. He currently holds a position of Professor in the Departments of Biomedical and Molecular Sciences and Medicine, Associate Professor in the Department of Psychology. He held the position of Director of the Centre for Neuroscience Studies for 17 years.
The main goals of his research are devoted to: 1) understanding the neural circuitry controlling visual fixation and the generation of saccadic eye movements, and 2) using our knowledge of this circuitry to probe a variety of neurological and psychiatric disorders such as Attention Deficit Hyperactivity Disorder, Parkinson's Disease, Alzheimer's Disease, Huntington's Disease, and Amyotrophic Lateral Sclerosis.
Dr. Munoz currently holds a Tier 1 Canada Research Chair and was awarded the Premier's Research Excellence Award in 1999, the Basmajian Award in 1997 and the Aesculapian Society Teaching Award in 2001. He is currently funded with a foundation grant by the Canadian Institutes of Health Research, Brain Canada, and the Ontario Brain Institute. He is also involved in many joint funding initiatives which includes an NSERC Create Program, Ontario Institute for Regenerative Medicine and the Canadian Consortium on Neurodegeneration in Aging. He is an active collaborator with internationally recognized scientists from the United States, Netherlands, Brazil, France and Japan.
Dr. Jessica Grahn
Dr. Jessica Grahn studies how music affects our brain and behaviour, specializing in the study of rhythm. Her major focus has been understanding why we move to music, and her work has shown that the brain areas that control movement respond when we listen to musical rhythm, even if we are sitting still. By studying the neural mechanisms of how we 'feel the beat', her work can be applied to optimize our understanding of how patients with neurological movement disorders, such as Parkinson's disease, may benefit from musical interventions.
Dr. Grahn has degrees in Neuroscience and Piano Performance from Northwestern University, as well as a PhD from Cambridge, England, in the Neuroscience of Music. She is an Associate Professor in the Psychology department and Brain and Mind Institute at the University of Western Ontario. She has received the Charles Darwin Award in Public Communication of Science from the British Science Association. She also has an Early Researcher Award from the Ontario government, a New Investigator Award from the Canadian Institutes for Health Research, and an Understanding Human Cognition Award from the James S. McDonnell Foundation. Dr. Grahn's research is supported by the GRAMMY foundation, Parkinson Society Canada, Canadian Foundation for Innovation, and the three major Canadian research councils. Her TedX talks on music are popular, with hundreds of thousands of views online.